Yours Truly: Thanks
2016 I was broke, my soul was broken
My life has sunken to a point where I was feeling hopeless
thoughts about pulling the plug on my life and my career
All I had was fear towards everything I did
My company in worst situation that I can think of
12 bucks in the bank account couldn't even speak up
people around me seemed to
be having the best life some of them even gettin ring on they finger
Didn't know what to do, how to move on
how to make a living, how am I supposed to show love to anybody?
But I was pretending like I was strong and Im never hurt
but inside I was scared to death anxiety in my fuckin nerves
that's when I went to your first show in Tokyo
we kicked it I stayed at your airbnb showed you the local
scene, you told me about LA and we got global
my mind started to elevate and getting stoked too
I asked you I wanna start something new
maybe a magazine, so can I please interview you
you guys said hell yeah man lets do it tomorrow morning
My mind gradually getting back the color I needed
we proceeded the the 1st interview of my life yeah
the definition of free
you taught me the motivation to do what ever I want, however I want
to grind, to launch another shot with my passion
to the 2 that be "KNOW"ing thank you for letting me do this
you gave me the idea and the motivation with the music
I wouldnt be doing this if it wasnt for you and
you inspired me to grind when everything was blue and
so I dedicate this verse to the 2 of the truest
artists of all time,
now I got a career that I can pursue
cuz this is how I turned the interview into playatuner.
So thank you.
moved to Japan like the story of my "Day One"
from watching Daewon with homies to be in the land where I can say nun
cant have fun, alone in this place never felt a sense of belonging, since I came here
would have acquaintance but never really fit in
everyday from school I would go home all alone
watching the other groups in the bus they act a fool
so I would get into music it became my tool
Ive never been close friends with anybody for more than a year
maybe I was just scared to say farewell again to my peers
like how the sea disconnected me and my tears
from my old friends. I didnt want to experience it again
even my band back then didnt last, maybe it was lack
of commitment but we had some bangers
we disbanded again and again I knew it was gonna happen again
I pretended like how I didnt give a damn
like Im a strong lone wolf
I don't condone no good
relationship, I would move forward like a stone cold rook.
Thought I wouldnt do music with another band
but here I am i guess they became more as my friends
the oldest of the 9
of the TRIBE from a difference campus
I was an outsider to the band and
they asked me maybe itll be dope to have a rapper
in this street funk at night we moving dapper
played in Fuji and opened up for the best acts
we move slow but every weekend we in the house and we hang
god damn. this the feelin I was tryin to hide from
the shit I felt in junior high and the home Im from
Felt alone for so long I sometimes dont know
how to deal with being with friends and not solo
so i say sorry in advance if shit gets weird
cant say it to yall face so I say it over beats thank you.
To all my love.
who I care, I can't say it to your face
so I say it over snares and bass
anybody that got me out of my situation I'm saying thanks.
I can't pretend, I'm grateful to have you.
thank you music.
thank you to anybody that gave me motivation
thank you skateboarding
thank you everything that gave me a sense of belonging when I felt so cold.
All My Love
Yours Truly,
Kaz Skellington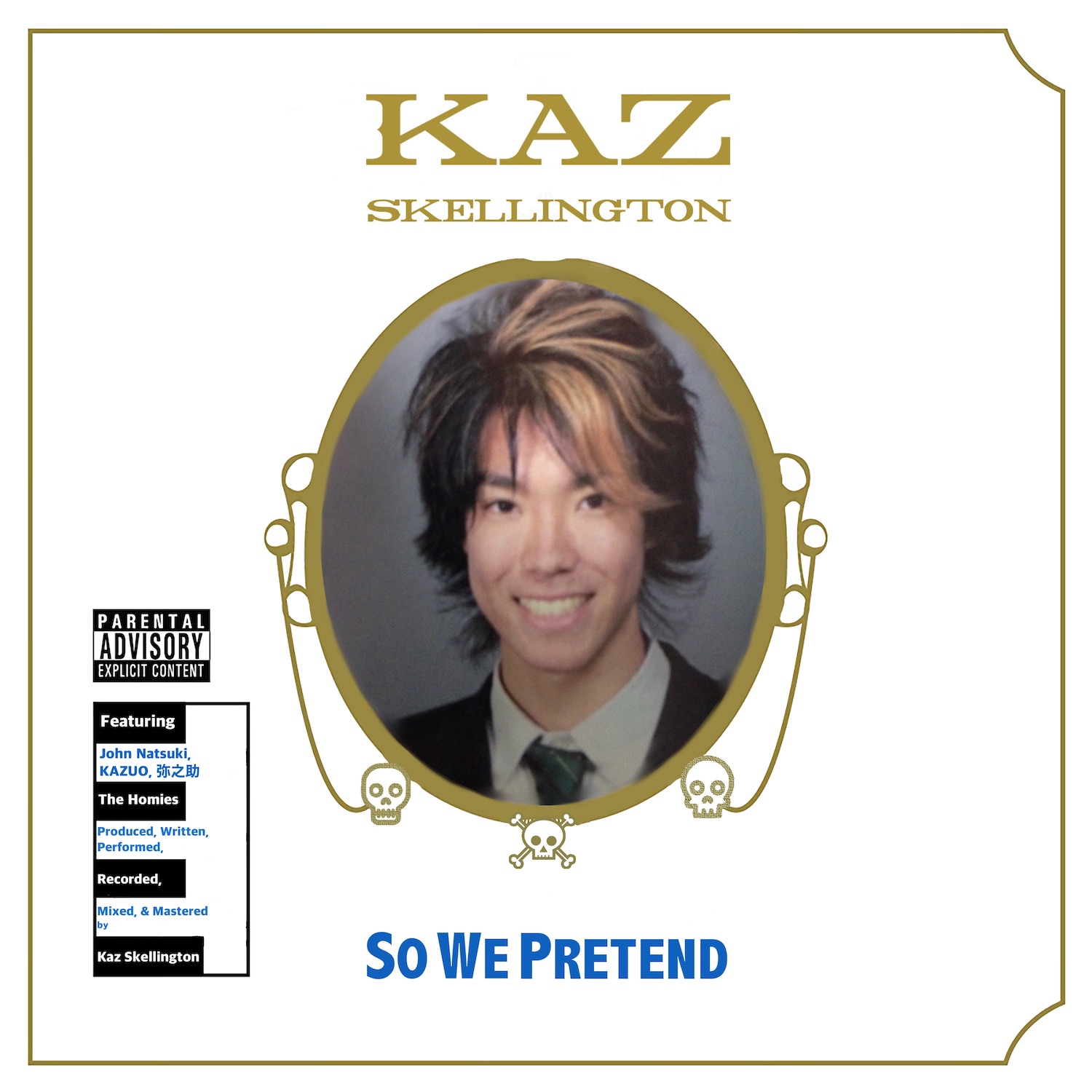 (画像クリックで各ストリーミングのリンクを表示/Click image for streaming links)
1. The Nightmare Before My Birthday (Intro)
2. Underwater Disco
3. Friends: Sorry
4. City of Angeles
5. Day One feat. KAZUO
6. N155AN feat. John Natsuki
7. iseestars
8. Diary (Interlude)
9. So I Pretend I Never Met You
10. mmm…ask
11. Socially Awkward feat. John Natsuki
12. WTF John!? feat. John Natsuki
13. Booze House
14. Seed
15. Stereo 2013 feat. 弥之助 (Bonus Track)
16. Yours Truly: Thanks